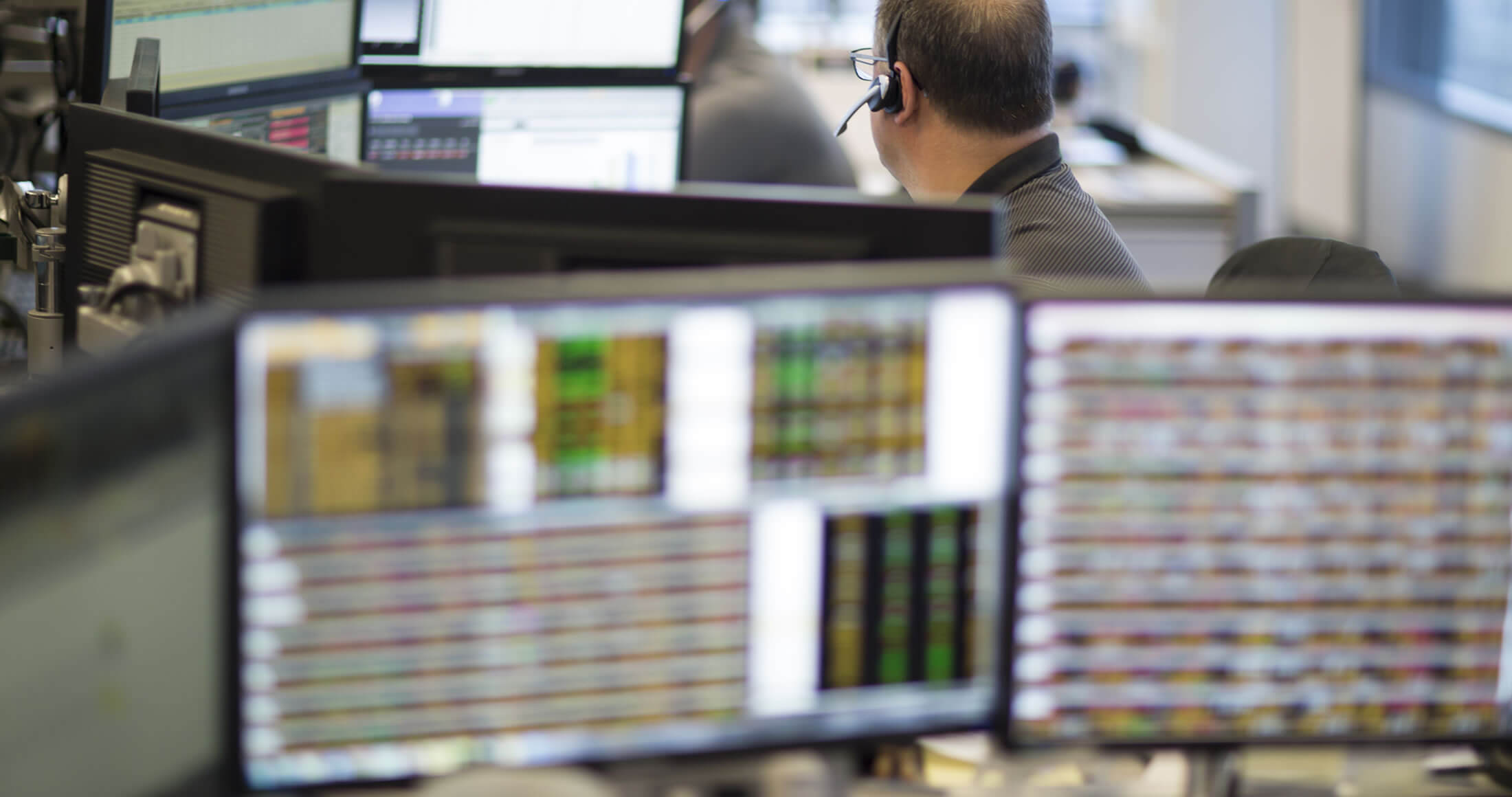 As 2019 comes to a close, we are thankful that the stock market has treated us more kindly than it did in 2018. At the risk of bringing up unpleasant memories, December 2018 was the worst December for the S&P 500 since 1931, when the country was in the throes of the Great Depression. Equities have rebounded nicely in 2019. And as we say good-bye to the 2010s, we can reflect on a number of interesting and important milestones, not the least of which was an unambiguously strong decade for U.S. stocks.
Though it doesn't always feel like it, stocks have become less volatile over time. In the 18-year period from 1928 through 1945, the S&P 500 fell in excess of 25% on nine different occasions — roughly once every other year. In the 74 years since, the S&P 500 has fallen 25% just eight times, or once every nine years and change. Furthermore, history shows that equity volatility is lower than average when 10-year U.S. Treasury bond yields are below 3% (currently at 1.9%). And as we look ahead to 2020, it is encouraging that twelve month equity returns are positive more than 80% of the time when 10-year bond yields are at these low levels.
We often hear that we are in the midst of one of the most unloved bull markets. The graph below shows fund flows for stocks and bonds since 2008. Investors' overwhelming appetite for bonds and suspicion of stocks is evident. Yet the last 10 years have seen an ebullient environment for stocks, one where the S&P 500 has returned over 250% compared to 35% for the Barclays U.S. Intermediate Government/Credit Bond Index — 13.5% vs. 3% on an annualized basis, respectively.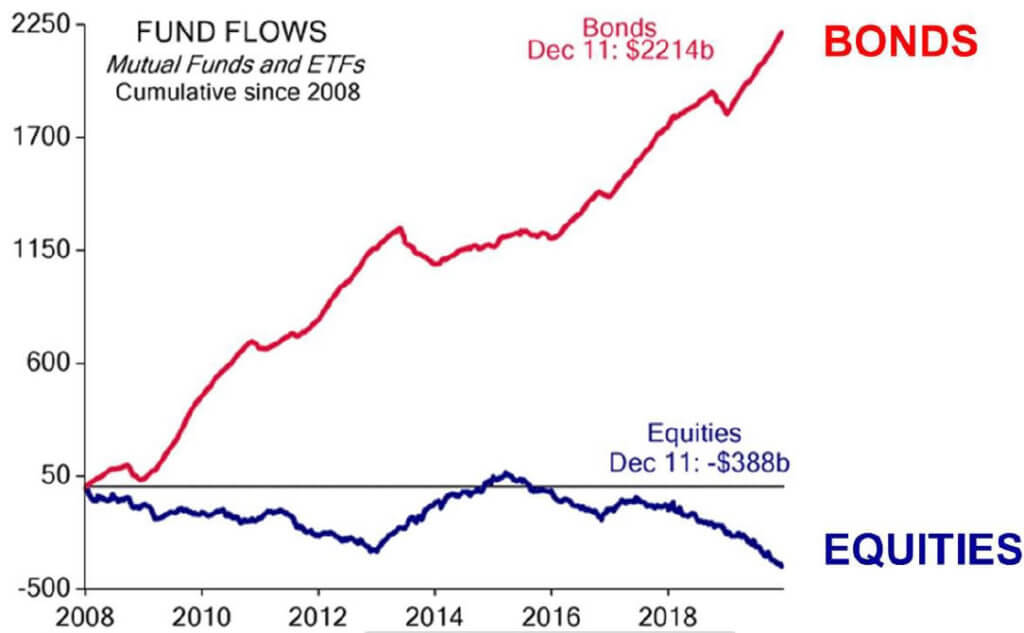 Renowned investor Sir John Templeton famously said: "Bull markets are born on pessimism, grow on skepticism, mature on optimism, and die of euphoria." If that is indeed the case, and the above graph is any indication, the death of this bull market could still be some time away.
The concern now among many is that equity valuations are stretched. But the numbers reveal that over the last decade, the vast majority of market gains can be attributed to an increase in dividends and corporate earnings, with just a marginal increase in investors' willingness to pay a higher multiple for those earnings. In that context, value stocks still look historically inexpensive when compared to their growth counterparts. At Harris, we still are finding compelling opportunities to purchase stocks that meet our criteria of trading at steep discounts to intrinsic value, have a clear path to growth, and having shareholder friendly management teams.
The topic of the next recession has persisted. And while it is impossible to predict when one will begin, at this point at least, we do not believe that there are any ominous signs that one is imminent. Though we are in our longest economic expansion in history, it has not been nearly as strong as the two that ended in 1990 and 2001. Therefore, we may be in an environment where we get lower growth but for a longer time.
As we say goodbye to this decade, let's reflect on a few of the milestones and headlines from the last 10 years:
2010: Launch of iphone 4 and the introduction of FaceTime | Introduction of ipad | Some forms of Macular Degeneration are curable
2011: Death of Osama Bin Laden | The internet has a greater reach than television | Borders bookstores files for, ironically, Chapter 11 | Apple CEO Steve Jobs dies
2012: Gangnam style was the most watched video (If you are fortunate enough to have never heard this song or seen this video, I envy you!) | Mayan calendar predicted the world would end | A cure for baldness is discovered
2013: The word "selfie" was added to the dictionary | Boston Marathon bombing | Nelson Mandela and Margaret Thatcher die
2014: Smart watches are the newest tech gadget | Personalized DNA sequencing can be conducted for less than $100 | NASA's MAVEN probe arrives on Mars | Most phone calls are made via the internet
2015: Electric car ownership reaches 1mm worldwide | The number of PCs in use doubled — it took nearly 30 years to reach the 1 billion mark, but only seven to grow from 1 billion to 2 billion
2016: Cubs win the World Series | Brexit | Divisive U.S. presidential election
2017: Fidget spinners are all the craze | Dow Jones Industrial Average closes above 20,000 for the first time
2018: Apple becomes the first public company to reach a market capitalization of $1 trillion | After 17 days, 12 boys and their soccer coach are successfully rescued from a flooded cave in Thailand
2019: The processing speed of computers is a thousand times faster than it was just a decade earlier — by 2029, computers will be a thousand times faster than today's and a million times faster than they were in 2009 | Nasdaq surpasses 9,000 for the first time | iPhone 11 is introduced with eight times the memory, nearly twice the battery life, and 75% larger screen size compared to the iPhone 4 released just nine years ago
Other notable highlights:
News show "20/20" will enter its 42nd season in 2020.
U.S. unemployment has decreased from nearly 10% to 3.5%.
The global rate of extreme poverty and HIV/AIDS deaths both fell by more than half.
The incidence of malaria in Africa declined almost 60%.
Death rates from air pollution declined by almost a fifth globally and a quarter in China alone.
New technologies have spurred the U.S. to become the world's largest oil producer. As a result, natural gas use has increased dramatically, cutting our reliance on coal by half.
Simply put, the world progresses. Matt Ridley states in his book 'The Rational Optimist'1:
"Technologies I cannot even conceive will be commonplace and habits I never knew human beings needed will be routine."
Many fall into the trap of making forecasts based on today's resources and not extrapolating innovation. To wit, in 1949 "Popular Mechanics" magazine made the bold prediction that someday a computer could weigh less than 1.5 tons! For perspective, I discovered that fact on my iPhone that weighs six ounces and has over 100,000 times the processing power of the computer that guided Apollo 11 to the moon. As such, it is confounding that airlines are unable to build a coach seat in which anyone taller than 5'5" can comfortably fit, but I digress.
The fact of the matter is that we've lived through revolutions, recessions, geopolitical tensions, and trade disputes, among many other challenging and unsettling times. Yet wherever societies have been open and markets free, scientists, innovators and businesses have persisted and made greater progress than ever, improving the quality of life for many and providing investors with ample opportunities to benefit. This is why it is with some amount of confidence I would expect, 10 years hence as we usher in 2030, that as we reflect back on the capabilities of our iPhone 11, for example, we will be shocked by all the things it CAN'T do.
As always, we thank you for entrusting us with your investment assets and your continued support. Lastly, the best compliment we can receive is a referral from a satisfied client. We appreciate your referrals and handle them with the utmost of care. We wish you a Happy New Year and healthy and prosperous decade ahead.
1Ridley, Matt. The Rational Optimist: How Prosperity Evolves. Harper, May 18, 2010.
Past performance is no guarantee of future results. Current performance may be lower or higher than the performance data quoted. The gross performance presented does not reflect the deduction of investment advisory fees. All returns reflect the reinvestment of dividends and capital gains and the deduction of transaction costs. The client's return will be reduced by the advisory fees and other expenses it may incur in the management of its account. The advisory fee, compounded over a period of years, will have an adverse effect on the value of the client's portfolio.
The information, data, analyses, and opinions presented herein (including current investment themes, the portfolio managers' research and investment process, and portfolio characteristics) are for informational purposes only and represent the investments and views of the portfolio managers and Harris Associates L.P. as of the date written and are subject to change without notice. This content is not a recommendation of or an offer to buy or sell a security and is not warranted to be correct, complete or accurate.
Investing in value stocks presents the risk that value stocks may fall out of favor with investors and underperform growth stocks during given periods.
©2020 Harris Associates L.P. All rights reserved.